The Capped Bust $2.5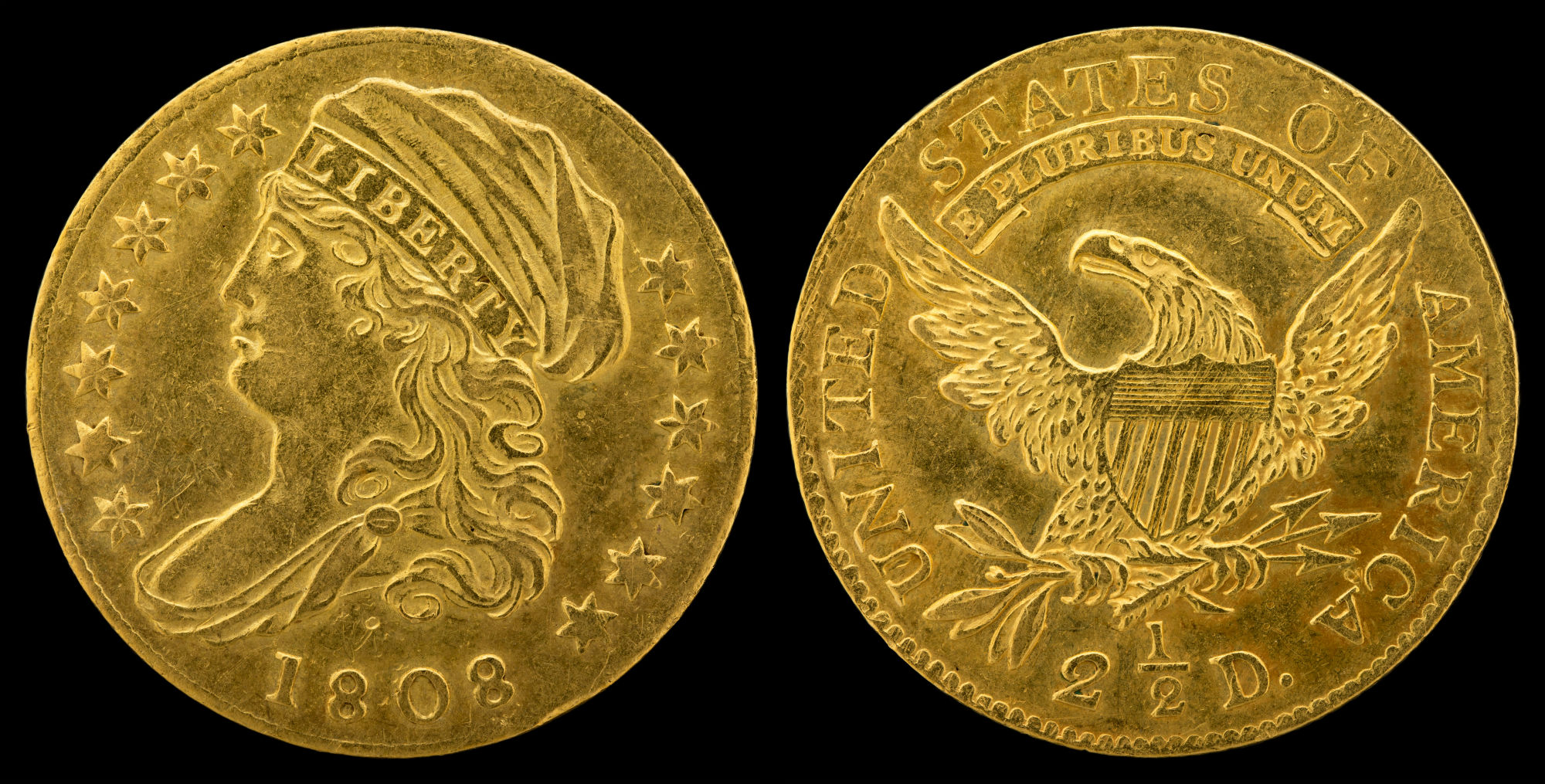 |
Get Your Set Today:
Complete National Park Quarter Set - 112 Coins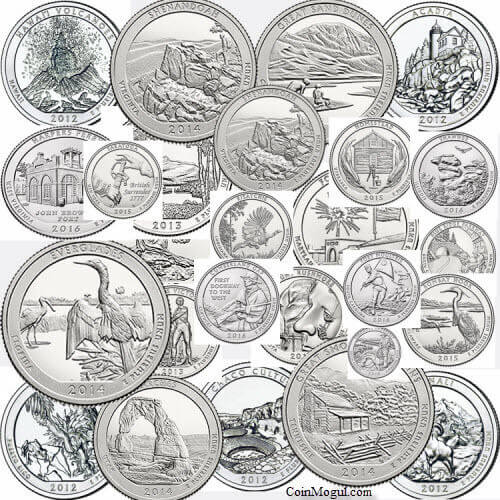 By the year 1807, US Mint Director Robert Pattinson wrote a letter to then-President Thomas Jefferson in order to promote John Reich as Robert Scot's assistant. Pattinson was worried that Scot might die anytime soon, leaving the position vulnerable with no one properly trained to take the post. After some time, Reich was tasked to create new designs for the US coins.
For the new Quarter Eagle, Reich created a design wherein Miss Liberty is now facing left while a mob cap is seen on top of her head and the legend LIBERTY inscribed on it. 7 stars are in a form of an arc on the left side of the obverse while 6 are on the right.
For the reverse, the Heraldic Eagle is still featured but now has a more naturalistic bird with the Great Seal on its chest. The Eagle is now perched on an olive branch while it is clutching three arrows with its talons. E PLURIBUS UNUM is inscribed on a ribbon placed just above the Eagle. UNITED STATES OF AMERICA is in a form of an arc almost touching the margin while the denomination 2 ½ D lies below the Eagle. Due to the elements being sunk in the die incompletely, most coins have weak borders.
All Capped Bust $2.5 were minted in the US Mint in Philadelphia and bears no mint marks. These were coined from 1807-1834 with only 3 Proofs. It has a reeded edge, weighs 4.37 grams, is 20 mm in diameter, and is made up of 91.7% Gold and 8.3% Copper.
There are 3 Types for the Capped Bust $2.5
Type 1 Large Cap Capped Bust $2.5
The first type was only minted in the year 1808 with no Proofs. No clear reason was recorded as to why this type only lasted the same year it started, and as a result, it came to be one of the most sought-after US coins. It has a diameter of 20mm which will later change in the following years.
Regular Strike
1808 Large Cap Capped Bust $2.5 – 2,710 pieces were minted
Type 2 Small Cap, Large Diameter Capped Bust $2.5
The second type now features a smaller cap on Miss Liberty's head and the stars surround her profile bust to form a perfect semi-circle. A new die was introduced which resulted in a slightly smaller in diameter. From 20mm, the diameter went down to 18.50mm. The mintages were minuscule since the number of coins produced only depended on the demand. The Type 2 Capped Bust was minted in 1821, 1824, 1825, 1826 and 1827 with only 1 proof date – 1821.
Regular Strike
1821 – 6,448 pieces were minted
1824/1 – 2,600 pieces were minted
1825 – 4,434 pieces were minted
1826/'5′ – 760 pieces were minted
1827 – 2,800 pieces were minted
Proofs
1821 – 7 pieces were minted
Type 3 Small Diameter Capped Bust $2.5
The third and last Type of the Capped Bust $2.5 was created with a beaded border while inside a raised rim. Letters and stars were struck in a slightly smaller size. These were minted from 1829-1834 with 2 Proof.
Regular Strike
1829 – 3,403 pieces were minted
1830 – 4,540 pieces were minted
1831 – 4,520 pieces were minted
1832 – 4,400 pieces were minted
1833 – 4,160 pieces were minted
1834 Capped Bust – 4,000 pieces were minted
Proofs
1831 – 10 pieces were minted
1833 – 5 pieces were minted
Collecting Capped Bust $2.5
When it comes to Capped Bust $2.5, the rarest one of them all is the last series minted – those dated in 1834. Considering the low mintages, the bullion value of gold coins rose more than its face value resulting in many gold coins including the Capped Bust $2.5 be melted or sold. The 1808 Capped Bust is considered as the most sought-after in US numismatics.  
PCGS-graded Capped Bust $2.5 prices depend on the type and year the coins were minted. For the type 1, one can buy them from $30,000.00-$2,350,000.00. No Proofs were minted for the type 1.
For type 2 Capped Bust, price starts at $6,500.00-$550,000.00 for the Mint States. As for proofs, price starts at $65,000.00-$325,000.00.
For type 3, price starts at $5,250.00-$475,000.00 for MS and from $35,000.00-$185,000.00 for Proofs. Those dated in 1834 has a significantly higher premium than any other dates in the series
References:
PCGS, PCGS Coin Facts, NCG Coin, My Coin Guides